Aham by Dinu Elizabeth Roy
Discover Aham Designer Boutique – a manifestation of Dinu Elizabeth Roy's incredible journey. From her days as a cabin crew member at Air India Express, Dinu has emerged as a dedicated fashion entrepreneur and designer. Fueled by an unwavering passion for fashion, Dinu and her Aham team are on a mission to empower the women, helping them embrace contentment and confidence through exquisite apparel.
Explore our collection and experience the essence of empowerment and style with Aham Designer Boutique.
Read more
Aham Retail Stores
Retail Store, Sasthamangalam
Vellayambalam - Sasthamangalam Rd
Above RBL Bank
Sasthamangalam
Thiruvananthapuram, Kerala 695010
Directions
Retail Store, Thalayolaparambu
Sneha's Arcade
Near Ceylon Jn
Thalayolaparambu
Kottayam, Kerala 686605
Directions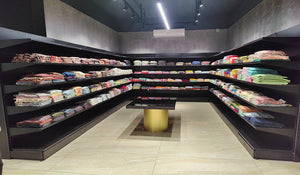 Retail Store, Kootattukulam
ESMS Buildings
Uppukandam - Kappipally Rd
Karimpana P.O.
Koothattukulam, Kerala 686662
Directions