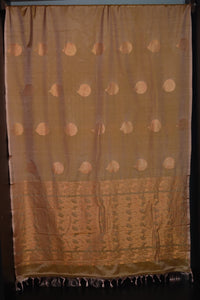 Classy & Comfortable Power loom Semi silk Saree | KRK160
Regular price Rs. 2,699.00 Sale
Classy and comfortable cotton blended power loom semi-silk sarees of golden shade with copper and zari woven round motifs dispersed throughout the body. A rich pallu embellished with floral arrangements and these special sarees is paired with matching running blouse blouses.
Saree: 5.40m | Blouse: 90cm
Colour Variants Available: Peacock blue, Maroon, Navy, Black, Magenta, Bottle green
Note: You can choose the variant while viewing a product by clicking the drop-down box right below the product price.
*Please Bear in Mind That the Photo May be Slightly Different From the Actual Item in Terms of Color Due to the Lighting During Photo Shooting or the Monitor's Display